George E. Danielson
Democratic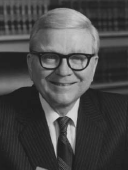 courtinfo.ca.gov
Candidate Biography:
Born February 20, 1915 in Wausa, Nebraska
Married: Gladys C. Ohanian (in 1953)
Military Service: USN (WWII)
Died September 12, 1998 in Monterey Park, CA
Previous: Special Agent, Federal Bureau of Investigation (5 years)
1949-1951: U.S. Attorney (Los Angeles, California)
1971: Resigned from the State Senate on January 12.
1982: Resigned from the United States House of Representatives on March 8.
1982-1992: Associate Justice, California Court of Appeal, Second Appellate District
Member of the House Judiciary Committee during Watergate.
In the 1966 Democratic Primary, Danielson defeated Richard "Dick" Tuck, Richard Nixon's favorite enemy (and the President's apparent inspiration).
Source: California Blue Book (1961), (1967)