Frank F. Merriam
Republican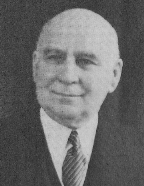 CA Blue Book
Candidate Biography:
Born: December 22, 1865 in Hopkinton, Iowa
Married: Nellie Day (in 1901)
Died: April 25, 1955 in Long Beach, CA
1896-1898: Representative, Iowa General Assembly [State Legislature]
1898-1902: Iowa State Auditor
1922: Campaign Manager, Friend W. Richardson for Governor
1923-1926: Speaker, California State Assembly
1926: Primary Candidate for Lieutenant Governor (Lost)
1931: Resigned from the State Senate on January 6.
1934: Resigned as Lieutenant Governor on June 7.
In 1916, Merriam was the target of an attempted recall. The recall failed to qualify for the ballot.
NOTABLE HISTORY: Until Bob Herzberg in 2014, Merriam was the last Assembly Speaker to become a State Senator.
PLACENAME: The Friend F. Merriam Grove (of redwoods) is located at Prairie Creek Redwoods State Park (named 1959).