Anthony C. Beilenson
Democratic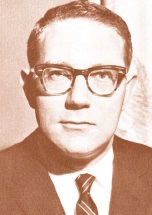 CA Blue Book
Candidate Biography:
Anthony Charles Beilenson
Born: October 26, 1932 in New Rochelle, New York
Married: Dolores Martin (in 1959)
Children: Peter Lowell, Dayna Anne, and Adam Laurence
Died: March 5, 2017 in Westwood, CA
1968: Primary Candidate for US Senate (Lost)
1976: Resigned from the State Senate on December 17.
1989-1991: Chair, United States House Permanent Select Committee on Intelligence
LEGISLATION: Author (with Senators John L. Harmer, Alan Short, and Lewis F. Sherman) of SB 462, the Therapeutic Abortion Act, which permitted a physician or surgeon to perform an abortion in cases of rape or incest, or when doctors determined that the pregnancy "would gravely impair the physical or mental health" of the mother. (Stats of 1967, Chapt. 327)
PLACENAME: The Anthony C. Beilenson Visitor Center is located in the Santa Monica Mountains National Recreation Area.
Peter Beilenson served as Sacramento County's Director of Health Services from 2018 to 2020, including the challenging early months of the COVID-19 pandemic.
Source: California Blue Book (1963), (1967)
Source: "Biographical Directory of the United States Congress, 1774-Present" (U.S. Library of Congress) [http://bioguide.congress.gov/]