Leo J. Ryan
Democratic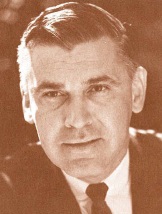 CA Blue Book
Candidate Biography:
Leo Joseph Ryan, Jr.
Born: May 5, 1925 in Lincoln, Nebraska
Married: Margaret Ryan (m. 1941, d. 1971), Peg
Child: Erin*, Shannon (Jasmine), Patricia*, Christopher, and Kevin
Military Service: USN (WWII)
Killed: November 18, 1978 at the Port Kaituma airstrip near Jonestown, Guyana
1956-1962: Member, South San Francisco City Council
1962: Mayor, City of South San Francisco
1964: Delegate, Democratic National Convention
1966: Opponent, Proposition 1A (which created a fulltime legislature)
1968: Delegate, Democratic National Convention
As an Assemblyman, Leo Ryan proposed the design for the California State Assembly seal that was adopted and is now used.
Congressman Ryan visited the Jonestown compound to investigate reports that some members of the People's Temple had been abused by its leader, Jim Jones. During his visit to Jonestown, a cult-member attempted to attack Ryan with a knife. Ryan's group left Jonestown for a nearby airport, where it was attacked by members of the temple. Five people (including Ryan) were killed and nine were injured (including Congressional Aide Jackie Speier).
From 2002-2006, Erin Ryan worked as a aide to State Sen. Jackie Speier. She currently works (2008-Present) as Legislative Counsel for Congresswoman Speier. Patricia Ryan serves as the Executive Director of the California Mental Health Directors Association.
PLACENAME: The Leo J. Ryan Memorial Federal Building is located in San Bruno. (Home of the National Archives and Records Administration, Pacific Region). Leo J. Ryan Park is a city park located in Foster City. The main post office in San Mateo is named the Leo J. Ryan Post office on the 30th Anniversary of the Jonestown massacre.
LEGISLATION: Author of the Hughes–Ryan Act (1974), a federal law which "required the President of the United States to report all covert operations of the Central Intelligence Agency to one or more Congressional committees within a set time limit."
Source: California Blue Book (1963), (1967), (1971)
Source: Understanding California Government and Politics by Leo J. Ryan (Fearon Publishers, 1966)
Source: "Biographical Directory of the United States Congress, 1774-Present" (U.S. Library of Congress) [http://bioguide.congress.gov/]