Phil Burton
Democratic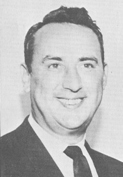 CA Blue Book
Candidate Biography:
A. Phillip Burton
Born: June 1, 1926 in Cincinnati, Ohio
Married: Sala Galant
Family: Brother of John Burton
University: University of Southern California (BA; 1947)
Military Service: USN, USAF
Died (in office): April 10, 1983 in San Francisco, CA
1954: Primary Candidate for AD-23 (Lost; 31%)
1959: United States Representative, Atlantic Treaty Association Conference
1964: Resigned from the State Assembly on February 24.
1968: Delegate, Democratic National Convention
1970: Delegate, Democratic National Convention
Burton was the youngest member of the Assembly in 1956 at age 30.
PLACENAME: The Phillip Burton Federal Building and U.S. Courthouse is located in San Francisco.
PLACENAME: The Phillip and Sala Burton Academic High School was dedicated in 1984.
PLACENAME: Phillip Burton Memorial Beach is located in Daly City [San Mateo County]
Silver Screen: Burton was portrayed by Robert Chimento in the movie "Milk" (2008).
Source: California Blue Book (1961)
Source: "Biographical Directory of the United States Congress, 1774-Present" (U.S. Library of Congress) [http://bioguide.congress.gov/]