Carley V. Porter
Democratic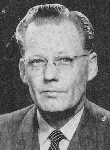 CA Blue Book
Candidate Biography:
Born: February 19, 1906 in Chicago, Illinois
Married: Marie Walton (in 1934)
Chid: Carl William
Military Service: ARMY (WWII)
Died (in office): December 6, 1972 in Sacramento, CA
1948: Early Primary for AD-69 (Withdrew)
LEGISATION: Author of the Burns Porter Act of 1959 (also known as the California Water Resources Bond Act of 1959; was a bond issue to fund the creation of the State Water Project).
LEGISATION: Author of the Porter-Cologne Water Quality Control Act of 1970 (increased the authority of the State Water Resources Control Board and was seen nationwide as the most advanced legislation in the water quality field).
LEGISLATION: As a member of the Assembly Select Committee on Environmental Quality, Porter was an author of AB 2045 (Chapt. 1433, Stats of 1970) which became the California Environmental Quality Act of 1970 (CEQA).
Source: California Blue Book (1950), (1961), (1971)