Augustus F. "Gus" Hawkins
Democratic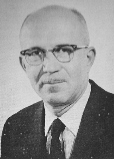 CA Blue Book
Candidate Biography:
Born: August 31, 1907 in Shreveport, Louisiana
Married: Pegga Adeline Smith (d. 1966), Elsie (d. 2007)
Children: Two stepdaughters and a stepson.
University: University of Southern California (1932)
Died: November 10, 2007 in Bethesda, Maryland
1944: U.S. Presidential Elector
1971: Co-Founder, Congressional Black Caucus
Gus Hawkins was the first black US Representative from any western state (1962).
Gus Hawkins was 27 when elected to the Assembly in 1934.
As of 2010, Hawkins was the fifth longest-lived US Representative is US history.
PLACENAME: The Augustus F. Hawkins Natural Park is located in Los Angeles. The Augustus Hawkins Mental Health Center is part of the Martin Luther King, Jr. Multi-Service Ambulatory Care Center in Los Angeles.
ACR 126 (Dymally, 2008) declares that the second Monday of September of each year shall be Gus Hawkins Day in California.
Source: California Blue Book (1961)